Whether you are going to a Christmas party, Hen party or Birthday party getting glammed up is a big part of the fun and if you want to dance until dawn, you will need your make-up to last as long as you do. To help you create the perfect look for your party, we've gathered some top make-up tips from glo's in-house hair and make-up expert, Ann Marie Mays
Prepare, prepare and prepare some more!
Having a clean and prepped face is an essential part of make-up application; you want to be able to treat your face as a blank canvas.
Cleanse, tone and moisturize
Yes, we know it sounds obvious, but if you want your make-up to last then it's essential to clean away all the old colour. A daily exfoliator will also help to lift off impurities, including dead skin cells, to ensure that your skin feels fresh. Don't forget to exfoliate your lips before the  party, if you want a smooth base for your lipstick or gloss.
Prime face and eyes
There are some excellent primers on the market. Choose from oil-free, silicone based or mineral primers to suit your skin type. Primers diminish fine-lines, refine pores and even out skin tone.
An eye primer makes your eye shadow last longer, prevents creasing and hides any redness on the lids. A light dusting of a skin tone eye shadow can also help to stop colour fading. Also add primer below the lower lash line, to prevent your eyeliner and mascara shifting.
The face
Use an oil-free cream or liquid, or a mineral foundation, as they tend to last the longest. Follow with a light dusting of powder, sweeping any excess off with a powder brush, to help fix the foundation and stop it sliding.
As with foundation, use a creamy blusher, working from the apple of the cheek, then add a light dusting of powder blush over the top for staying power. Don't overdo the blush or bronzer though; add a little at a time
The eyes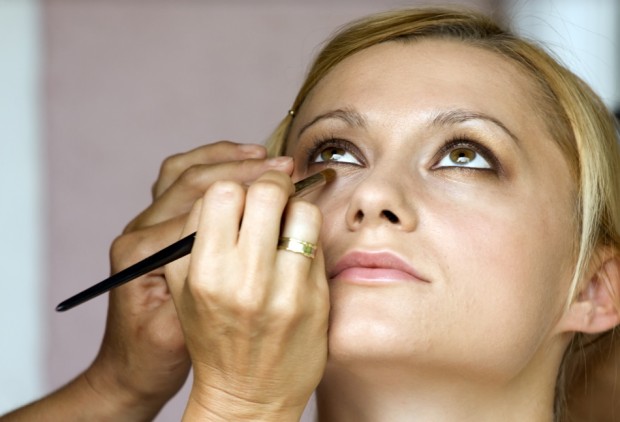 Gel and liquid eyeliner have greater staying power than kohl pencils, which tend to smudge. When applying eye shadow for your party, dab on rather than sweep. This stops eye shadow particles falling onto your face and builds colour intensity for longer-lasting coverage. Use a softer brush to blend it in.
 The lips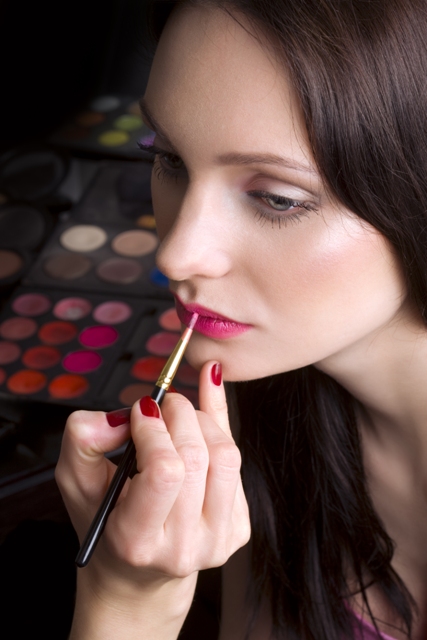 To keep your lipstick on all through the night, first use a lip pencil to trace the lip line and fill in the lips (you can blend it in with a brush), then apply lipstick. Separate one sheet of tissue to place over your lips and dust over it with translucent powder. Add another layer of lipstick and repeat the dusting. This gives lipstick extra staying power.  Top with a lip gloss for added shine.
 Don't forget!
Always allow time for each product to be absorbed into the skin.
Opt for waterproof products, as they tend to last longer.
If you are away in the sun, try to ensure that one product, i.e. moisturiser, primer or foundation, contains a broad spectrum of SPF 15+.
Fixing spray can help to protect your make-up from slippage caused by heat, moisture and touching.
Remember, higher shine equals shorter wear; you don't need to go super matt, but add shine with a shimmering lip gloss or a dab of glitter.
Nothing will work properly if you use dirty brushes. Buried deep in your make-up bag, unloved and uncared for, brushes can harbour bacteria that cause spots and other imperfections. So, give them a good clean with an un-perfumed organic soap or brush cleaner.
Handbag essentials
It's not just your lippie that you need to keep to hand for your party…
A few cotton wool buds are useful for removing any smudges.
Blotting papers keep you looking fresher for longer, as they absorb excess oil without disturbing your make-up, as long as you gently tap them onto your skin, rather than sweep them over it. Try not to add too much extra powder as the night goes on; it may hide an oily shine, but too much looks flaky.
A small bottle of skin mist is a great handbag addition. Spritz it on, then dab with a make-up sponge.
If your bag is big enough, keep a pair of flats handy to swap with your heels as the night goes on.
Later this month:  Hair styling tips courtesy of the lovely Ann Marie Mays